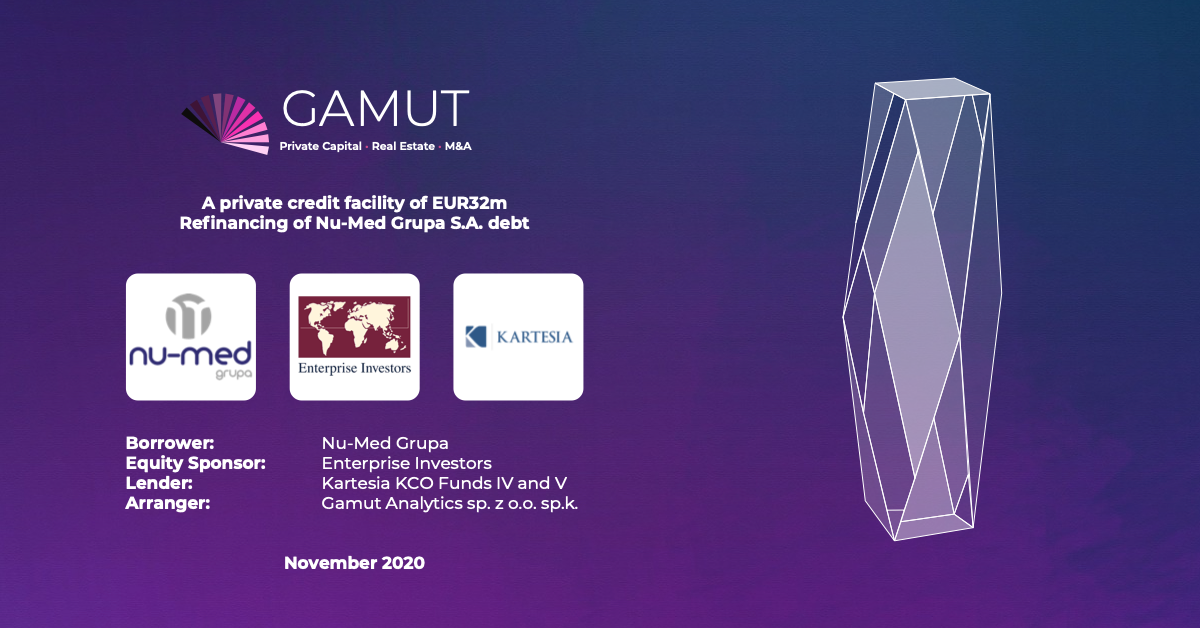 We are pleased to inform that GAMUT has closed a private credit transaction for c. EUR 32m in Poland. 
We were mandated by Nu-Med Grupa, a portfolio company of Enterprise Investors, the oldest and one of the largest private equity firms in Central and Eastern Europe. Nu-Med existing financial obligations were refinanced with one unitranche facility provided by Kartesia, a leading European small and mid-cap capital provider. 
We would like to thank Nu-Med Grupa and Enterprise Investors for entrusting us in supporting them in this process. It was a pleasure to work for a company that saves lives, and has a significant impact on the Polish oncological treatment system.
Gamut is an investment banking firm active in private capital and alternative assets
We focus on providing private debt financing for mid and large size companies
We raise funds for CEE companies and PE sponsors from the following sources:
private debt (senior, second lien, mezzanine, PIK)
private equity (pref equity, structured equity, common equity)
venture debt (for early stage companies)
venture capital (VC)
We work on sponsor-led and sponsor-less transactions, for mature companies and early stage start-ups
Gamut is led by ex-Nomura International Head of Poland
Traditionally companies are financed by banks and/or equity. In addition to supporting your company in negotiations with banks, we can provide access to private equity and private debt funds which are willing to invest in the CEE but are not present (or do not have ground teams) in the region. 
Together with our international network of partners from Western Europe, America and Asia we can provide optimal financing for your company, from senior secured loans to equity
We can provide financing from institutions which are not "usual suspects" for companies in the CEE
What we can do:
We h

elp our clients raise private debt or venture debt funding (from EUR5m upwards)

Advise companies and management on financing structures arranged with private debt fund
We believe the world of finance should be based on trust, professionalism and integrity
We only work on projects where we can add value

In our work we are guided by the highest standards of ethics

We work for start-ups, medium size and mature companies
Our team members have ample experience in investment banking, finance and law. We worked for Nomura, UBS, Citibank, UniCredit, Nordea or Weil, Gotshal & Manges, executing a wide range of transactions – both relatively small and some EUR 4-6 billion in size